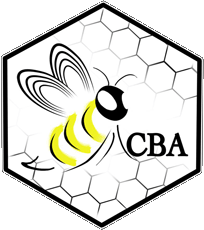 Speakers for 2021
All events take place on the first Tuesday of each month, at the Exit offices, St Mary's St., Fredericton, starting at 7 pm unless otherwise noted.
April 6
Meeting cancelled
​
May 4
The next CBA meeting will be held on Tuesday, May 4th at 7pm.
We will be meeting at the CBC, 1160 Regent Street, Fredericton and doing an inspection of the CBC hives.
We will be exercising social distancing.
All welcome!
​
June 1
The next CBA meeting will be held on Tuesday, June 1st at the CBC hives on Regent Street at 7pm. All new and experienced beekeepers are encouraged to bring their suits for an opportunity to assist in the hive inspection.
Social distancing will be observed.
All welcome!
​
July 6
The next CBA meeting will be held on Tuesday, July 6th at 7pm. Meeting will be held at the CBC hives, located behind the CBC building at the top of Regent Street where we will be inspecting the two hives on site. All new beekeepers are encouraged to bring their suits and assist with the hive inspections. All are welcomed.
​
September 25
The CBA will be holding a field day on Saturday, September 25th at 2238 Royal Road, Route 620, Fredericton, NB beginning at 9am.
This event is open to all members and non-members. The cost of this event is $20 for non-members. Current 2021 paid members are invited at no cost. Family members are encouraged to attend.
​
Please join us for a day of presentations, food and mingling. There will be a BBQ with hamburgers and hot dogs provided by the CBA. Soft drinks and water will be provided, this is a dry event and members are asked to refrain from bringing alcoholic beverages.
Presentations will be held on the following topics:
Extracting honey
Queen marking
Varroa Mite test methods
How to wrap your hives for winter
Fall inspection and what to look for

We look forward to seeing you again this year. If you plan on attending, please RSVP Daniel Allard, at daniel.allard4@yahoo.ca no later than, Friday, September 17th.

Please bring your own personal protective gear and lawn chairs for your own comfort.